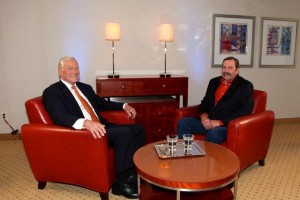 Matt is proud to be one of the producers of a new documentary short film from DNA Films® titled Maximum Achievement: The Brian Tracy Story, which is set to premiere February 22, 2017 in San Diego. Four-time Emmy Award winning director, producer and filmmaker Nick Nanton is completing work on this documentary about the extraordinary and transformative life and career of Brian Tracy, a world-renowned entrepreneur, professional speaker, best-selling author and success expert.
As a producer, Matt was a part of a private dinner celebration to kick off principal photography with Brian Tracy at his San Diego home. Matt took part in the filming of a live, intimate interview with Brian, where he reveals his secrets to success. Maximum Achievement began filming in August 2016.
Maximum Achievement is about more than Brian's life-story. The core of the short, ultimately, is to present Brian's seven fundamental rules of success in a way that is instructive and ultimately shareable. In an interview setting between Brian Tracy, Nick Nanton, and attending producers, they discuss the most important ideas that have ever been discovered in human history regarding success, prosperity, affluence, and building relationships.
About Matt Cravey:
Matt is President of Cravey Real Estate Services, Inc., one of the largest Commercial Real Estate Companies south of San Antonio, Matt holds two of the highest designations in the commercial real estate industry: Society of Industrial and Office Realtors (SIOR) and Certified Commercial Investment Member (CCIM).
Matt and his firm have cultivated a reputation for reliability and prudence in providing clients with real estate leasing and sales, investment counseling, asset management and real estate marketing services. He has helped court trustees, creditors, and debtors negotiate and resolve problems involving properties in bankruptcy, and has testified as an expert witness in legal cases involving lenders vs. borrowers, offering his expertise on both sides of the equation.
Raised in the Texas Hill Country, Matt began his career in the real estate industry in 1974, selling ranch land and large commercial tracts in the Kerrville-San Antonio region. He continued selling ranch property when he moved to Corpus Christi in 1975, but the scope of his professional involvement quickly expanded to include marketing commercial buildings, retail centers, apartment complexes and developer tracts, as well as income property and asset management.
Although working primarily in Texas, Matt's real estate expertise extends to out- of-state clients in markets including New York, Atlanta, Memphis, Santa Fe, Oklahoma City, Tampa and Jacksonville, Florida. His experience with large, complex properties has allowed him to build a network of investors, owners and brokers in Mexico, Germany, Japan, Korea, Canada, the U.K., Netherlands, Belgium and Switzerland.
Matt has been recognized for his expertise in real estate and has earned the prestigious NAI Global Elite award several times and is a contributor to national trade journals across the country.
Matt is a Best-Selling Author, for his co-authorship in the book Get in the Game and he had the opportunity to sit down with Brian Tracy in a face-to-face interview, which ran on affiliates networks including ABC, NBC, CBS, and FOX. He is also the recipient of The Expy award for his recent appearance in USA Today.
Click here to get in touch with Matt.
About DNA Films®:
DNA Films® is led by four-time Emmy® Award Winning Director and Producer, Nick Nanton and Emmy® Award Winning Producer, JW Dicks. Dicks and Nanton have produced multiple award-winning films including Visioneer: The Peter Diamandis Story, Esperanza, Mi Casa Hogar and Jacob's Turn. Their productions have won several Emmys and together they have been awarded more than a dozen Telly Awards for excellence in television and film production.  Combined, they have produced and directed more than 500 television episodes and dozens of films.
Dicks and Nanton's goal is to bring the uniqueness of entrepreneurs and their stories to the big screen as a means of encouraging a new generation of entrepreneurs and strengthening the economy. Learn more at www.CelebrityFilms.com.